Dr. Ahmed Thabet, MD
El Paso's Best Orthopedic Surgeon
With his patients at the forefront, Dr. Ahmed Thabet strives to provide the best orthopedic and pediatric orthopedic care in El Paso, TX. Fellowship trained, Dr. Thabet is a highly skilled Orthopedic Surgeon, with extensive training in Trauma and Pediatrics.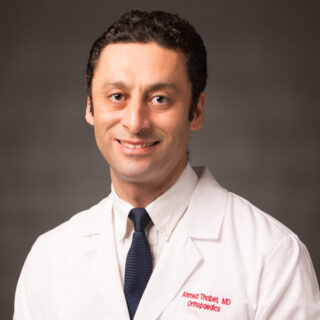 About Dr. Thabet
Dr. Ahmed Thabet is a highly specialized orthopedic surgeon in El Paso, TX, who has trained with some of the top trauma surgeons in country.  Dr. Thabet is an expert in complex fractures, bone deformities, and severe trauma, in both pediatrics and adults.  Dr. Thabet uses state of the art care and highly effective techniques to deliver the best possible outcomes for his patients.  He participates in several community-based organizations in El Paso, working with underprivileged children who have developmental disabilities.
Top Rated Orthopedic Surgeon in El Paso, TX
Nikky D. – Patient
"He performed a tendon transfer on my three year old. Remarkable doctor, very patient and kind to everyone, taking time to answer any and all questions. Dr. Thabet and his staff always make us feel welcome and at ease. I highly recommend this office."
Insurance Accepted
Dr. Thabet accept's most insurances, please call to find out if your insurance is accepted.


Dr. Thabet's Professional Associations